Readers review Soda Springs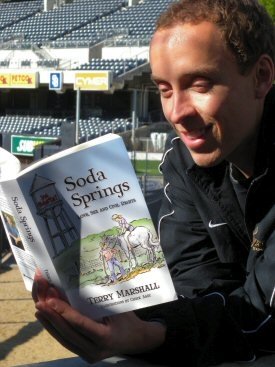 Reader reviews offer insight into how actual book lovers react to Soda Springs: Love, Sex, and Civil Rights.
As the novel continues to gain readership, we'll post the most thoughtful of those reviews.
We hope the reviews will be positive. After all, who wants criticism? Besides, it's too late now to rewrite Soda Springs.
As we're finding out, though, readers aren't all the same.
I recently exchanged a series of e-mails about literature with a high school friend, a retired English teacher. I told him I hoped Soda Springs would reach the kind of people who, like me, like Richard Russo's Empire Falls, and David Guterson's Snow Falling on Cedars.
My friend wrote, "I have never been able to read Richard Russo's books. I read a few chapters of Snow Falling on Cedars, but didn't continue because it didn't interest me enough." He much prefers Kent Haruf, Sue Monk Kidd and Yan Martel.
The moral: different tastes for different folks. I hear even celebrities read fiction...
Now, take a look at what other readers have told me about Soda Springs. Then join the discussion.

Ready to review Soda Springs?
OK, you've read the book. How did it strike you? What did you like best? Why? Would you recommend it to others? Why? Add your voice to the discussion. It's easy. Just follow the directions below.
What Other Visitors Have Said
Click below to see contributions from other visitors to this page...

---
A well-told story, great dialog . . . and more
(Soda Springs) is a "Well-told story revealing a different side of racial prejudice in the sixties and inviting questions of the present. Great dialog, powerfully evocative sexual tension, interesting characters and plot."
-- Sheila Deeth, Global eBook Awards judge

---
A novel to be read, digested and read again
"I re-read
Soda Springs
, this time slowly and where people could see what I was reading. This novel is one that should be read, digested and read again. I love it when people ask questions."
-– Sylvia Lobato,
Valley Courier
, Alamosa, Colorado
---
A must read
From "Native writes" -- a column in The Valley Courier, Alamosa, Colorado
By Sylvia Lobato


With the royal wedding over with and Barack Obama's birth certificate released, I decided to visit Soda Springs.
I picked up Terry Marshall's novel, Soda Springs, Love, Sex and Civil Rights, expecting to relive some old memories; I left it with eyes wide open.
Unlike many novelists seeking to portray a particular time in the nation's struggle for equality, Marshall adds unique layers to his work. Even a chance contact with Dr. Martin Luther King, Jr., is portrayed in an unusual way.
Probably the knowledge that Marshall is a "home town boy" from Center led to some expectations, and they were fulfilled, as the fictional Rick Sanders eventually fulfilled his dreams.
Soda Springs is an imaginary farm town where the community remains divided and at war with its own people, while the citizenry struggle to make ends meet, stay afloat, get an education and raise families in a place where there seems to be no way out.
The book is illustrated by Alamosa native and nationally renowned political cartoonist Chuck Asay, whose Christian conservative views make one wonder how he so accurately depicted life in Soda Springs.
A map drawn of the Soda Springs area leaves no doubt that it is in the San Luis, oops! Sangre de Cristo Valley. Alamosa is there, so are Hooper, South Fork, Del Norte, Monte Vista and... Soda Springs, right where Center ought to be. Even the sand dunes are there, though the names of La Veta Pass and Zapata Falls have been changed.
Marshall explains that he has taken these liberties with places in his novel to ensure that no one sees it as autobiographical. The people are fictional - all except Dr. King, whom Rick Sanders meets in Alabama.
He and college roommate Charlie McPherson essentially set out to experience the civil rights struggle in the south, where Charlie was raised. It was 1963, the year of Dr. King's Birmingham marches and his "I Have a Dream" speech.
Rick learns some intimate lessons from his roommate's mother and, eventually, some hard ones from his police officer father, then makes his way back out into an inhospitable world.
Immersed in the collegiate classroom and his commitment to Dr. King's crusade, Rick gets word that his dad has been badly hurt in a farming accident and he must return to Soda Springs.
He does, but with a new set of eyes, opened by what he has seen in a place where there were three restrooms, men, women and blacks.
The book takes its reader to Soda Springs and introduces its people, based on the way each person views life in the small town and the valley area in general.
Marshall allows his reader to view Soda Springs through the eyes of those people, adding layers to a story that could have been a one-sided, bland tale, a coming-of-age novel about a college kid coming home, the "great white hope," a small-town savior.
The book's a page-turner, hard to put down, and even harder for one who lived in the San Luis Valley during the long, hot summers of protest, working for civil rights and picketing the lettuce fields.
Easily recognizable are the White House, now just a memory and a place for the people created in an old Studebaker garage. It's not La Frontera, now Center Head Start, Marshall swears, just as the Sanders place is not Marshall produce.
Deftly painting a picture of life in Soda Springs, Marshall brings his characters to life, painting the nuances of relationships, the way the people think and speak, the old guard that believes prejudice and discrimination are acceptable, the people who loudly maintain it must end, the preacher's wife, the coach, the teenaged Rick Sanders, the virginal Ginny Sue, the frustrated and disabled dad, corrupt and racist police, the town government and a simmering cauldron of social change that eventually boils over into violence.
We climb with Marshall up the town water tower where someone has painted "Ya Basta!" "Enough is enough," warning the people of Soda Springs that things must change.
For anyone living in the San Luis Valley, this book is a must-read; for those who remember the passionate days of the 1960s, it's an awakening to the fact that some things may have changed, but not necessarily for the better.
The book is available at The Narrow Gauge and the Adams State College bookstores.

Author's note: it's also available at the Tattered Cover in Denver, Maria's Bookshop in Durango, www.TerryMarshallFiction.com, Friesen Press, and Amazon.com.

---
Eye Opener
Any preconceptions I had of the story line in Soda Springs was immediately erased as I turned the pages. It becomes clear that the prejudices of the deep south are found in other places with other peoples and other nationalities.
The book has a great story line. It keeps you reading to find out how it is going to develop -- both the rites of spring and the rights of people.
Soda Springs opened my eyes to the early 1960s as never opened before and made me realize that some things taken for granted as you grow up are not really what they seemed at the time.
Soda Springs is a very good read. I found it hard to put down.
Thank you, Terry Marshall, for a wonderful story with real people.
-- Don C, Albuquerque, NM
---
A book to read and pass on
Soda Springs invited me into a community where the people quickly came to life. The story was engaging and kept me guessing until the end, and past. This book is one to read and then pass on. Many an interesting conversation was started while I was reading it. I don't remember the sixties, but my parents began telling me stories they hadn't before. The 20 year olds had me reading more on the subject just so I could explain what was happening at the time. Read this book and start talking.
-- Domino Law, Amazon.com
---
Grow Up!
Soda Springs is an engaging novel that can be enjoyed on many different levels.
Pick one or experience them all: relive your own "coming of age" challenges; recall your own struggles with your moral – and political – development; reflect on the role of your own religion in your life; or simply savor great writing and great storytelling about some people you would love sit down with to share your life views.
For me, being transported back to 1963 evoked myriad emotions of that very confusing time. The folks in Soda Springs could have been my family members, my friends, and the families of my friends. Not that their backgrounds were identical, but the human issues being confronted were and are universal and timeless. The civil rights issues could have been those of the competing religious and cultural groups of the country I was living in at the time. The people depicted are compelling, not extreme or melodramatic caricatures.
The big issues of the day, while not necessarily solved or resolved, are all there: civil rights, war (Viet Nam), religion, moral conflicts. All are approached believably by a cast of characters that one can both relate to and care about.
Particularly easy to identify with, as well as perfectly portrayed, were the conflicts for the girls: Ginny Sue, Karen, and Concha – whether it was their relationships with their parents, boyfriends, or peers. Their conversations rang true – especially for the time. The challenges of the parents and their roles as parents and/or professionals are not unlike those faced by parents today.
After completing the book, I felt I had actually spent time in Soda Springs, that I knew these people, and that I wanted to talk to them about their experiences and compare our life journeys.
And, yes, I was so captivated by people in the book that I actually became annoyed about some of their actions and decisions and wanted to have words with them! I just wanted to tell Rick to grow up! And then it dawned on me -- that's what Soda Springs is all about!
-- "DHS", Las Vegas, NV
---
A realistic portrayal, but too many big words, and the sex is too graphic
Soda Springs: Love, Sex, and Civil Rights is the story of a young man, Rick Sanders, in his quest to become a man, find lasting love and fight for equality for all people regardless of race or skin color. (It) details a small town's resistance to equal rights for all by some people and the struggle by others to achieve equality.
The story mainly takes place in the San Luis Valley in southern Colorado in the early 1960's. I related easily because I was born there and grew up there. Setting canvas dams and pulling siphon tubes for irrigation evoked memories of my youth. The aptness and strength of the author's descriptions, and their nuances reminded me of the many hours I spent helping my dad irrigate, just as Rick did in the novel, giving it elements of non-fiction narration.
The writing effectively captures the elements that made Soda Springs, the San Luis Valley, and teenage angst what they are. The characters are believable and adequately portrayed by the author. They are the ordinary people next door with the same desires and needs of people everywhere.
The book will perhaps challenge the reader's vocabulary skills. Marshall uses too many "twenty-five cent" words. What's the old rule your English teacher taught you? Don't use a big word when a simple one will do. You don't have to have a college degree to read the book, but a simpler word, at least some of the time, helps readers stay connected. Marshall relies heavily on figurative language; similes and metaphors abound in the book.
The title promises "love and sex." Sexual matters are usually implied by most authors, but Marshall goes for the explicit. It's too blatant, too graphic.
The author's style tends to make the writing trite and over-dramatic. Readers deserve more.
-- John Shown, Mesa, Arizona

---
Is Soda Springs "trite"? "Overly dramatic"? A reader responds: no way!
What exactly about this story constitutes 'trite'? What is trite about people struggling for equality? Is learning what kind of a person you are or what you are capable of 'overused'? Banal? As for 'overly' dramatic, I think that depends on whether or not the reader thinks the situation deserves the attention it received.
I'm a little surprised the reviewer did not appreciate the vocabulary. Sometimes a 'simple' word does not say enough. This book isn't for children, neither is it about everyday occurences. It deserves a quality use of the English language. I found the vocabulary used refreshing and stimulating. When reading, I appreciate not being condescended to because I may not understand a 25-cent word. That is what dictionaries are for, if you find yourself in difficulties.
-- Maren Rash Cecil, comment on Facebook
---
"The descriptions in the book were remarkably vivid."
This was a great story!
I was intrigued to read a book about civil rights in a different place and with people I hadn't previously realized as struggling with civil rights.
The descriptions in the book were remarkably vivid. Soda Springs quickly became a town I cared about and Rick and Ginny were real people I was fascinated to know.
A part of history I hadn't realized I was interested in until I couldn't put it down. When I got to the end, I actually turned a page or two back to make sure I hadn't missed something, I didn't want it to be over.
Fabulous book! I highly recommend it.
-- M.B. Cecil, Amazon, com
http://amzn.to/e94TwC

---
"It brings back the slow-paced life of the 50's and 60's."
I so enjoy it when I get into a book and find it's a page-turner. I could not put down Terry Marshall's Soda Springs.
Development of the characters and the lucid descriptions of their personalities caught my interest immediately and held it throughout the book. The creative illustrations enhanced the characters in my mind, and at some point I realized I did not want the book to end.
Most of us can recall our "coming of age" experiences during high school and college years, the recognition of their parent's values and mores and remember the expectations and social restraints represented by our parents and community. This novel stimulated me to reminisce about all these, and more, in my own life. I found myself recalling the quiet, comfortable and slow-paced life of the 50's and 60's, so different from our world today. Our scratchy, black and white TV news showed sit-ins and protests in the southern U.S. each evening. I thought that was "a world away."
Soda Springs made me realize that social injustices take many forms and in fact they occurred in my own community. Hypocrisy may not be seen when "blinders are in place." I was in suspense about how the main character was going to deal with social injustices in his community until the final pages of the book.
I hope there is a sequel.
-- Chuck Drabek, Amazon.com
http://amzn.to/eKAmLP