From Birmingham to Soda Springs:
The Civil Rights Movement goes west
Jump to chapter: 1 | 2 | 3 | 4 | 5 | 6 | 7 | 8 |
April 1963 . . . the Civil Rights Movement commands national headlines. It's gaining steam.
Martin Luther King joins protests against segregation in Birmingham, Alabama . . . The Man responds with nightsticks . . . police dogs . . . high-pressure fire hoses . . . mass arrests.
Two college students on spring break . . . Rick Sanders, a small-town Colorado boy; and Charlie McPherson, a Birmingham native . . . enter the fray. Rick quickly gets caught up in the marches . . . the protests . . . the anger and bitterness. He finds himself face-to-face with his idol, Martin Luther King, at Birmingham's 16th Street Baptist Church . . . but embarrasses himself in the exchange.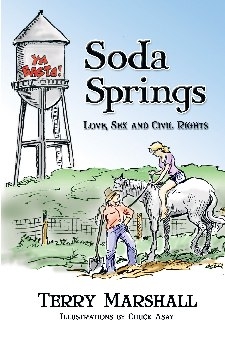 Meanwhile, in Soda Springs, Colorado . . . an isolated farm town (Rick's hometown) where no one knows . . . or cares about those headline-grabbing protesters in the far-away South. Soda Springs has no Negroes. Not one. No one from Soda Springs has ever even met a Negro.
Besides, Soda Springs has its own problems: economic decline . . . family farms in stress . . . factions battling for power . . . prejudice and discrimination . . . teen and adults alike confronting evil . . . and wrestling with their own demons.
Moreover, beneath its placid small-town folksiness, Soda Springs' own civil rights movement festers. Not among Negroes . . . but Mexican-Americans in the poverty-stricken barrio.
By summer, Rick will bring that Martin Luther King-inspired protest in Birmingham and the nascent civil rights movement in Soda Springs together in a way he neither imagined nor sought.
The summer of 1963 will become a battleground . . . both in Birmingham and in Soda Springs, and we'll find . . .
Hey, stop . . . wait a sec: let's show you this story, not tell it.
In Chapter 1, join Rick and Charlie en route to Birmingham . . . then meet Charlie's mom, Priscilla, a charming, erudite, but racist hostess . . . and as dangerous as Mata Hari.
Drive in to Soda Springs in Chapter 2. Join preacher Bob Hardwick and his lovely Filipina wife, Flor, as he copes with yet another blow to his dwindling church. Then meet the fiery Lupe Sandoval, who seeks to woo Flor into her newest scheme: a program for migrants . . . that's destined to fuel the Mexican-American fight for civil rights.
The first eight chapters follow. Read on.
---
Jump to chapter: 1 | 2 | 3 | 4 | 5 | 6 | 7 | 8 |
Learn more about the Civil Rights Movement

Return to Terry Marshall-Fiction home