American goyim in Jewish Cuba:
Adventures in the land of Castro
This webpage isn't fiction. This is real. I've wanted to go to Cuba since my college days in the early 60s. I was a budding journalist in high school, and went off to college in the fall of 1959 – nine months after Fidel Castro, Che Guevara, and Camilo Cienfuegos led the revolution that ousted dictator Fulgencio Batista from Cuba.
I quickly found a home on the Colorado Daily, the University of Colorado student newspaper. At the Daily, we covered Cuba as if it were a campus hot spot – we ran stories on agrarian reform, nationalization of businesses, the flight of the middle class to Florida, the U. S. trade embargo, the Bay of Pigs debacle, the missile crisis.
I dreamed of zipping off to Cuba to witness the results of the revolution for myself. No dice: when the U.S. slapped its embargo on Cuba in 1961, it forbade Americans from going there. Dream shattered.
But now, 2012, my wife and I are in Miami International Airport, tickets for Havana in hand. We're in a tour group of seven, bringing medicines to Jewish-sponsored clinics in Havana and Santa Clara. This blog charts the story of our tour:


---
Travel to Cuba today: A flight into the past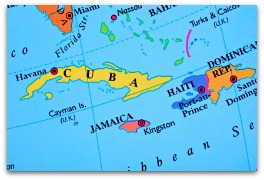 Cuba at last! I've waited 52 years for this trip.
We're an hour out of Miami, our propeller-driven plane shivering and shaking its way through the rain. The clouds break. Cuba stretches below, velvety green -- no suburban neighborhoods appear, no clogged freeways, no multi-storied office buildings. We ease down onto the runway. There are no gates, no covered passenger corridor moving out to meet us. Four commercial jets sit scattered about near the runway.
Havana at last! We're in communist Cuba, but in the terminal no one demands our papers or snarls "Go home, Yanqui!" No soldiers move in. No one wears a Che-beret or brandishes an AK-47. Rather, a smiling young woman in skirt and blouse greets us, points to the restrooms before we even ask.
But now what? Immigration! What if they object to our American passports?
Read the full blog . . . and join us in Cuba


U.S. travel to Cuba: intrigue sizzles in the air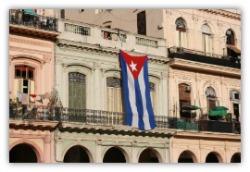 Day one of our mission. Our first stop: mojitos, fine dining, romance, and lessons on Judaism.
We're in Vista del Mar, a tiny upstairs restaurant in a former mansion overlooking the bay. What's for lunch? Mojitos. Wine. Swordfish in lemon sauce. Black beans mixed with rice. Paper-thin home-made potato chips. Lemon flan. Robust coffee.
But food is merely the appetizer; intrigue, the main course. Inches away from me, a willowy beauty turns the bay view to an afterthought. She had zipped into the last parking spot as we drove up and flounced into the restaurant like a model on the runway, hair bouncing, clingy dress displaying each luscious curve.
She sits tall, shoulders back, perky nipples unfettered by a bra. Her knee pushes against . . .
Read the full blog to dine with us


Revival of Cuban Jews in Havana:
Small, but vibrant community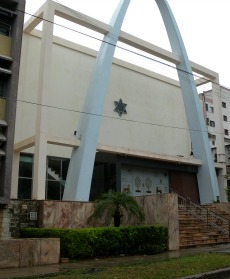 You won't find Jewish Havana on the Cuban tourist circuit. It's not even hinted at in Lonely Planet Cuba or Michelin's Havana must-sees.
No wonder: today, Cuba's Jewish population is a tenth of what it was in 1959 – an estimated 1,500 (of which 1,100 live in Havana), compared to 15,000 before the revolution. There's no visible Jewish part of the city, no streets of Jewish merchants. Sounds like anti-Semitism, doesn't it? But I had a chance to talk with Jewish leaders. Now I'm not so sure.
One thing is clear, though: today, Jewish Havana is thriving. Come with us as we visit Havana's three synagogues, talk to its leaders, and get a glimpse into both its history and its future.
Click here to visit the synagogues of Havana


Little-known Cuban attractions:
Holocaust tributes
Cuba seems far removed from the horrors of Hitler's Holocaust.
But here in Havana, the synagogue Templo Sefaradi serves up an excellent exhibit that keeps those memories alive . . . and ties them directly to Cuba.
The exhibit reminds us of the tragedy of 938 Jews who fled Europe in 1939 aboard the St. Louis, a transatlantic ocean liner. Cuban authorities allowed 28 to stay, but turned away the rest – as did the United States.
Eventually, 254 of those on the St. Louis were offloaded in Europe, only to lose their lives in the concentration camps.
The Templo Sefaradi exhibit isn't the only Holocaust memorial in Cuba. In Santa Clara, David Tacher guides us to a small, but powerful memorial in the Jewish cemetery there.
For 3 members of our tour group, these memorials unleash family stories of how the Holocaust profoundly affected their very existence.
Click here to visit the memorials with us


Cuba classic cars and the Havana Hustle
Day one in downtown Havana: sightseeing here we come.
I'm barely out of the van when a guy waves me over to a gorgeously restored Chevy: a '56 Bel Air sports sedan.
"I give you a ride, señor!" He tries to push me inside. He's in my face, and I scurry away.
Another local falls in beside me, grinning as if he were a long-lost brother. "Ola, amigo!" As we walk, he scratches out a caricature in his notebook with a felt pen. He finishes, thrusts it at me.
I see glasses and moustache, but nothing else I would recognize in a mirror. Meanwhile, another dude corners Annie.
They're "Picasso" and "DaVinci," they say with straight faces, and the bargaining begins. I know better, but we pony up for their "art" anyway. We've been had – fleeced the first morning out. How embarrassing; we're not newbie tourists!
That was the beginning . . . but it turned out to be the exception. Some Cubans do ask us for money, but quietly; we're never hassled. Others just want to chat.
Click here to meet the hustlers


Warm encounters with Cuban people
in the streets of Havana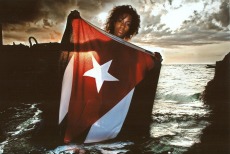 So what are Cuban people like today? After a week's visit I'm not in a position to make sweeping generalizations. I can at least offer a few experiences.
Our previous blog, Cuba classic cars and the Havana Hustle, reflected our first encounters with Cubans on the streets of Havana. We're tourists in a country where even professionals have to scrimp and hustle to survive. By virtue of being here, we are rich by local standards.
As tourists, we get hustled and hit up for money here -- yes indeed. But I can't forget that the last time I bought groceries back home in Las Vegas, a woman hot-footed it across the parking lot and asked me for money. And every time I drive in Las Vegas I see disheveled panhandlers on the corners or approaching cars at the stop lights. It's not just Cuban people; it can happen anywhere.
I'm here with a small group bringing medical supplies to Jewish–sponsored clinics. Our tour is tightly scripted; we don't have time to spend hours wandering the streets. That's what I'd need to do to really see Havana and meet its people. But even given our short time here, we come away with memories of many more fond encounters than irritating ones.
In this blog, we'll share some of those encounters with you.
Click here to meet some of the Cubans we met


The search for Ernesto Che Guevara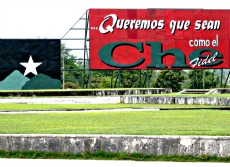 I've waited 50 years to meet Che Guevara. We taxi in at José Martí International Airport in Havana. What's the first thing I see in Cuba's capital? Not Che, but a taxi-line of pristine pre-'60s American cars – Chevys, Oldsmobiles, Buicks . . . no doubts now, we are indeed in Cuba!
Then, looming beyond the parking lot, a billboard with that famous image of Che: black beret with its single star, a guerrilla's beard and scruffy hair, confident stare into the future. "We see you every day. . . Che Comandante, amigo," the billboard says in Spanish. What? Is he still alive?
Che's portrait is all over Cuba: on billboards, banners, posters, books, t-shirts, even an eight-story-high iron sculpture on a high rise overlooking Havana's massive Plaza de la Revolución.
But Che is most evident in Santa Clara, 170 miles east of Havana. We'll visit his huge monument with its 19-foot-high bronze sculpture, his mausoleum, a museum honoring his life. We look for the gift shop, for some small memento of our trip here.
The search is in vain; this is sacred ground – no commercialism permitted.
Click here: we'll take you into his mausoleum and museum


All-inclusive Cuba:
pointers on living the good life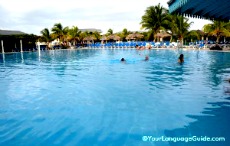 Here we are in Meliándia – Meliá las Dunas, to be precise -- an "all-inclusive" resort 240 miles from Havana. It's on a coral key connected to mainland Cuba by a 30-mile-long man-made causeway. No Cuban villages out here, no hole-in-the-wall cafes or artisans to discover, no natural or historic sites.
Ann and I can't wrap our heads around this place -- we like to bunk with local families, or at least stay in small, intimate guest houses or those over-the-hill, creaky-floored granddames that seem mired in the past.
But, man, is Meliándia popular. The manager tells us over complimentary mojitos that he has 1,200 guests this weekend. It's a campus of two-story bungalows set down in a manicured jungle of trees, shrubs, and flowers. No high-rise condos. No streets or boulevards. No belching vehicles. No neon. Faux-stone walkways, lit at night by low-voltage lamps, wend their way through the greenery.
So it's not our normal fare, so what? This whole trip is about new experiences. Meet us at the pool . . . or the buffet . . . or one of 12 bars we've discovered here. We'll show you around.
Click here for a private tour of Meliándia


Cuban life: Visiting with the locals
in Havana . . . and Hanoi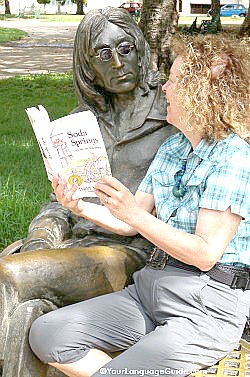 We're sightseeing in Havana. What's this . . . a public park honoring John Lennon, complete with a life-sized bronze statue? Yep, that John Lennon, the Beatle (whose music Fidel Castro condemned in the '60.)
Then there are the homages to Mother Russia's Cuban years: the plaque honoring Julius and Ethel Rosenberg, the American couple executed for spying for Russia; the huge monument to Vladimir Lenin, Communist philosopher and theorist.
As we wind down from shaking hands with John in Parque Lennon, our guide tells us we're close to her home. Would we like to see it? And meet her daughter?
Her invitation brings back memories of wending through the back alleys of Hanoi into homes of friends of our Vietnamese guide, of eating dinner with his family in his home, of chatting with his wife, father, and son – a real glimpse into life in Hanoi.
Of couerse we want to see her home.
Hop into our van and come with us. Click here


Life in Cuba today:
53 years of progress?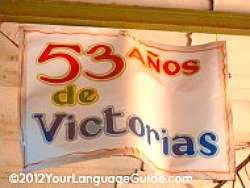 It's been 53 years since the Cuban revolution and Fidel's, and now, Raul Castro's rule. Are the Cubans who stayed better off than they were in 1958? Has their brand of socialism succeeded?
My answer is . . . unequivocally . . . without hesitation, a very strong . . . Who am I to say?
My credentials for assessing Cuba's socioeconomic status today are all of the following: my wife and I were in Cuba for all of 8 days. We were two among a tour group of seven Americans bringing medical supplies to Jewish clinics.
We had a set itinerary with full days, an English-speaking guide and our own driver. We stayed in fancy hotels: Melia Cohiba in Havana, Melia las Dunas off the coast of Santa Clara on Cayo Santa María. We peered out at Cuba from a bubble of privilege.
With that thick resume, let me chance a few observations. Here's what struck us most:
Click here to check out our observations


A new U.S.-Cuban policy needed:
End the embargo and encourage travel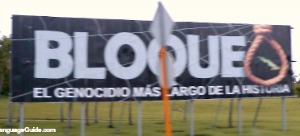 For over 50 years the U.S. has stubbornly clung to its Cuban embargo in an effort to bring down Fidel Castro's regime with a punishing economic blockade. In addition the U.S. has severely limited travel to Cuba by individual American citizens.
Obviously, the Cuban embargo and the travel ban haven't worked to remove the Castros from power (as if it were our right to do so).
What the policies have done, however, is 1) make life more difficult for ordinary Cubans; and 2) make sure that few Americans have any first-hand knowledge of daily life in Cuba. America's embargo against Cuba is outdated. We need to:



End the embargo. This would open Cuba to business opportunities, travel, and cultural ties. For the Cuban people, it would provide access to goods and services they need, but are currently denied, as well as support their efforts to develop the country.



End the travel ban and open Cuba to all Americans.



Nullify the Helms Burton Act.



Exempt Cuba from the Trading with the Enemies Act.



Elevate America's "Interests Section" in Cuba to full embassy status, then sit down like grownups with the Cuban government and negotiate the issues that divide us.
Click here to read our full blog on the American embargo

Return to Terry's home page


This completes our series of blogs on Cuba.