Terry Marshall
A brief glance at my journey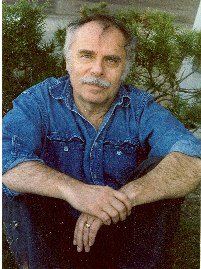 The Denver Post once featured me, Terry Marshall, as Rural Colorado's hometown revolutionary. Eye-catching headline, no? But an exaggeration. Here's a resume: I've been a printer's devil • linotype operator • Peace Corps volunteer, country director, and Washington bureaucrat • union rep • activist • protester • community organizer • Robert F. Kennedy Memorial fellow • high school teacher • Head Start director • newspaperman • editor • grantsman • traveler • scholar (Ph.D., Cornell) • stay-at-home dad • short story writer . . . and now, a novelist. I live in Las Vegas. I'm not a full-time card shark.
Those are the bare-bone facts. Here's the real story of Terry Marshall:
I have a rare skill most writers lack: I can read upside down and backwards, a skill rendered useless by modern technology.
I learned it in high school as a printer's devil at the local weekly newspaper. I can also operate a linotype and hand-fed letterpresses . . . two now-outdated technologies. But my days composing pages of lead type plunged me into the hands-on, ink-stained, nitty-gritty basics of writing. I've got printer's ink in my blood . . . literally.
I went on to get a journalism degree from the University of Colorado, Boulder, and wrote for several small newspapers in southern Colorado, Arizona, and New Mexico.
Along the way, my wife and I spent two years in the Philippines as Peace Corps volunteers. We lived in the barrio in my home town where I ran a Head Start program for Chicanos. Later, we got to know Guadalcanal first-hand when we spent three years directing Peace Corps programs in Solomon Islands, Kiribati, and Tuvalu in the South Pacific.
Interspersed with those experiences, I got a master's degree from the University of Wisconsin, Madison, and a Ph.D. from Cornell University . . . both in rural sociology.
Through immersing myself in other cultures, graduate studies, my travels, and language study in Spain, Mexico, and Peru, I became fascinated with how people of different ethnicity, race, and social class interact. The clash of cultures is the unifying thread of my fiction.
This website focuses on my fiction . . . starting with Soda Springs, a Mexican-American civil rights novel set in rural Colorado. Later, I'll add my short stories and another novel, Return to Tarawa, a tragic love story set in the spirit world and the harsh atoll life of Kiribati (the Gilbert Islands) at the time of Gilbertese independence.
In the meantime, take a look at my nonfiction book, Whole World Guide to Language Learning . . . on our language-learning website, www.YourLanguageGuide.com.
Thanks for dropping by, Terry Marshall
Return from Terry Marshall to my homepage, An invitation to fiction writing