Up against The Wall in Calexico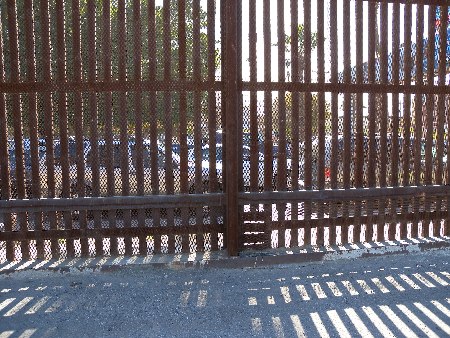 Before I built a wall I'd ask to know
What I was walling in or walling out.
-- Robert Frost, Mending Wall


Calexico is an afterthought. My wife and I are on our way home to Las Vegas from San Diego and we want to see the Salton Sea from its western shores.
But we got waylaid in Jacumba by The Wall, that great monument to American anti-social engineering that stretches across the desert from San Diego and keeps Mexico on its side of the border.
The Wall in Jacumba's back yard is the essence of rural. It's out-of-the way, off in the desert, a rusty scratch in the distance. We wonder, "Do you suppose it's like this in the city?" We can't resist. We speed back to I-8, barrel into El Centro, take CA-111 and head for the border. Mexicali here we come!
Calexico. Say it out loud . . . fit your lips around the soft, erotic hiss in the middle, the bookended clicks at beginning and end. Calexico: it exudes intrigue, mystery, romance.
And Mexicali – that's the Mexican city across the border– equally as romantic. Every time I say it, I hear Gene Autry singing "Mexicali Rose." I've always wanted to meet that girl; she's gorgeous, I'm sure of it.
Fascinating names, Calexico and Mexicali. So sonorous, so rhythmic, so. . . matched, as if . . . oh, my goodness . . . I just realized they're not only neighbors, they're sisters . . . both from the same roots, reverse images of the same portmanteau – California-Mexico all squished together into a single name; on the other side, Mexico-California smushed into one word. Like one town that happens to straddle an international border. Who knew?
Whoa, CA-111 is about to disappear into Mexico. Huge signs warn us. The highway narrows. High fences close in. We've been to Tijuana and Juarez, never Mexicali. But we know what lies ahead: humorless border guards, sniffer dogs, endless lines of idling cars, exhaust-saturated air.
We zip left at the last possible moment and find ourselves in downtown Calexico . . . one retail shop after another – clothes and shoes (or rather, ropa and zapatos) in abundance, as if the clothing section of a Mexican mercado had migrated north and taken over a 1950s American downtown. It's lunch time. We're hungry. No restaurants in sight.
We drive on and find The Wall two blocks south of the main drag in a quiet, modest residential neighborhood. The Wall looms up on the south side of the street where the sidewalk would normally be. No traffic here -- no residential cars at all, moving or parked. Merely two Border Patrol vehicles hugging The Wall, poised for quick pursuit, one a block to the east, the other off in the distance.
Same wall as at Jacumba: vertical shafts of COR-TEN-like steel, 21 feet high . . . but here, plastered over with steel mesh netting. Mexico is totally off-limits; I can't even poke my pinky through.
We gaze through The Wall. Behind us, Calexico is silent as a ghost town. Before us, a city hums – we are three feet from a busy two-lane street, cars zipping by, folks strolling in a pocket park not a hundred meters away. No one notices us. We're starving grasshoppers looking in wistfully as the ants play.
But at least we're safe! After all, 700,000 Mexicans live in Mexicali . . . only 40,000 Americans in Calexico (97% of them of Mexican descent).
Imagine if The Wall weren't here: that thundering herd would probably storm across the street and take over the town . . . shoot, take over all of America. No doubt they all aspire to.
The good news is this: they can't get at us. Or we can't get in. Or out. One of those.

Now go back and visit the border wall in Jacumba, CA

Return to homepage