Nigger? Why use it in Soda Springs?
More "n-word" (nigger) talk today. Here's the precipitating issue: Mark Twain's Huck Finn (published in 1884) will be reissued in February in a new edition edited by Alan Gribben and published by NewSouth Books. This new version replaces the verboten word nigger with slave.
The rationale: lots of American schools have banned Huck Finn or removed it from their reading lists, specifically because it uses the word nigger repeatedly: 219 times to be exact. By removing the nasty word, Gribben figures schools will have no reason to deny students access to this great American classic.
Maybe, but who's to say the educators who banned Huck Finn in the first place will buy that argument? After all, by banning the book, they rejected a great vehicle for engaging students in discussing a critical lesson in American history: our racist treatment of blacks.
OK, nigger is an ugly word, I agree. Offensive. Nasty. Racist. Hurtful.
That's precisely why it needs to be read and discussed; that offensive word vividly conveys the tenor of Huck Finn's times. That, alas, was reality. We need to understand that reality if we are to root out its legacy and move to true equality.
Guess what? Those times continued . . . and continued . . . and still continue.
Soda Springs takes place in 1963. In Colorado not the South. I use the word nigger in the novel 29 times (I learned that yesterday using Amazon's "Look Inside" function; I hadn't keep count). Here are two examples:
page 2: en route to Birmingham, Rick Sanders and his college roommate, Charlie, get pulled over by an Alabama state trooper. The trooper saunters up, checks Rick's Colorado plates and ID, and snarls, "Long way from home, mister . . . You here to stir up the niggers?"
Whoa, welcome to Alabama! The word conveys a lot about the trooper. But more importantly, it cements Rick's stereotypes about the South and Southern whites. He will arrive in Birmingham, not only angry and frightened (the trooper also roughed him up), but with an attitude. A single word does that.
Or take page 12: By now we've met Charlie's mother, Priscilla McPherson. She's stunning, charming, bright, witty. Rick is captivated by her (for good reason: I absolutely love her). She, Rick, and Charlie go to Birmingham's palatial Methodist church on Palm Sunday. Afterwards, one of her friends asks, "I didn't see Phil. (Charlie's dad, a Birmingham cop.) "He on duty?"
Priscilla: "Always. This nigger business has gotten out of hand."
The novel continues, "Rick winced. Priscilla sounded as blase' as if she had commented on the weather. Nigger business? God, this to a bevy of charm-oozing blue bloods dressed to the nines. And in the shadow of their sanctimonious cathedral."
Bam, with a single word, Rick's image of Priscilla has been shattered. Rick has been charmed by her, and soon, despite himself, he will find her irrestiable but from this scene on, through the rest of the novel, he will be tormented by these conflicting images of her.
That's the power of nigger. It belongs in Soda Springs, just as it belongs in Huck Finn.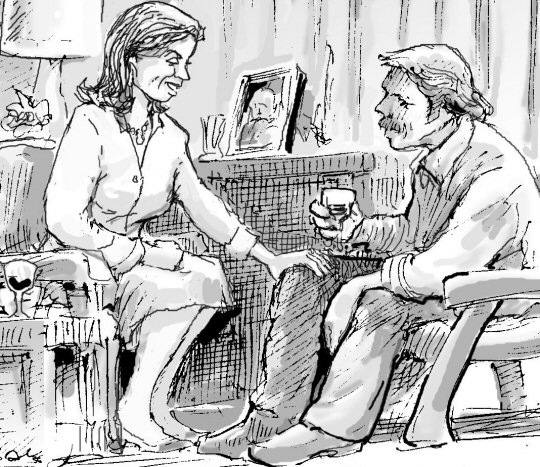 Priscilla McPherson and Rick Sanders
The night pulsed of spring on a planet far from icy Ithaca.