From El Filibusterismo to Soda Springs:
A long route indeed

Jose Rizal isn't an author you run into every day. Nor is his 1891 novel, El Filibusterismo, at the top of today's best seller lists. But there he was, in sepia grandeur, on this book review site, Bookingly Yours How could I not be intrigued?
The bogger, Jenai, is a Filipina mom (kids aged 6 and 3) who says she enjoys reading "paranormal romance, horror and young adult books." She read El Filibusterismo and Rizal's first book, Noli me Tangere, in high school. (Rizal is required reading in the Philippines. He's a national hero, having been executed by the Spanish for his novels, which excoriate colonialism and sound the cry for independence.)
Penguin Classics published a new English edition of El Filibusterismo in 2011. Good for Penguin! And good for Jenai – the work is a far cry from the paranormal romance, horror, and young adult genres. It's hard-core revolution artfully articulated; you feel the oppression and suffering imposed by Spain.
I was looking for bloggers to review my own novel, Soda Springs: Love, Sex, and Civil Rights, when I found Bookingly Yours. Jenai's review of El Filibusterismo sent me on a trip into fond memories:
From college to the Philippines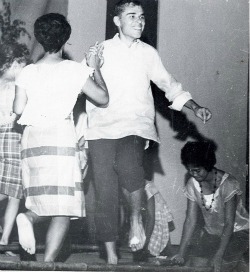 After college and a year on a newspaper, I joined the Peace Corps and spent two years in Tacloban City, Leyte, Philippines. That experience changed my life. I went as a journalist and came back convinced I would spend my life in international development. I went back to college, got a master's degree in rural development, then moved into the Mexican-American barrio in my rural Colorado hometown and set out to fight the discrimination and poverty I'd been blind to growing up.
I got some things done, but mostly I got my butt kicked. So I went back to grad school. I spent three years trying to figure out why I hadn't changed the world. I studied . . . analyzed . . . even made trips home to interview my old enemies so I could understand our battles from their points of view. Then I wrote a three-volume dissertation on how community change happens – or doesn't happen.
A comprehensive work . . . but something was missing
My work won me a PhD from Cornell University . . . but it didn't show what poverty and prejudice feel like, or the frustrations in the day-to-day nitty gritty of battling history . . . or all the little "irrelevancies" that get in the way – like family feuds and love affairs and personal quirks and stupidities. So I rethought the whole thing. I invented a town and a set of fictional characters who go well beyond my own experiences.
The result: my novel, Soda Springs: Love, Sex, and Civil Rights. It tells a rollicking coming of age tale that weaves love, sex, and Dr. Martin Luther King's 1963 Birmingham campaign into the previously untold story of a Mexican-American community's battle for civil rights. It confronts those topics our mothers told us to steer clear of in polite company: sex… religion… politics… racial conflict.
But more than that, it's the real story of what happens when you try to change a tiny corner of the world. It shows that fiction really can speak to the truth more accurately than real life.
Soda Springs: stories of colliding cultures
Like all my work, Soda Springs probes a world where men and women of different cultures collide. They struggle with loneliness, misunderstanding, anger, confusion, conflict, hatred, at times violence. They rejoice in insights sparked by cross-cultural friendships. They fall in love, satiate their libidos, suffer from their excesses. At times, they're comic or silly or embarrassing, and sometimes, infuriating. They let us in on their innermost thoughts – and we agonize as they cope with the pickles they get themselves into.
Their fictional stories entertain, enlighten, and, we hope, give pause for thought. All fiction should do at least that, no?
Thanks, Jenai, for reminding me of what an impact the Philippines has been in my own life. Probably wouldn't have been a Soda Springs without those two years in Leyte.
P.S.: my complementary website on Soda Springs is now up and running. Take a look: www.SodaSprings-theBook.com.

Check out Bookingly Yours book review site

Return to home page